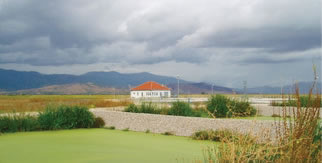 Environmental Science and Engineering
Long-term Study on Landscape Irrigation Using Household Graywater – Experimental Study (Phase 2)
Publication Date: August 2010
Cooperating Institution: Colorado State University
Principal Investigator: Larry Roesner and Sybil Sharvelle
Project Budget: $566,573
Project Identifier: 06-CTS-1CO
DESCRIPTION
As water supply becomes more limited throughout the world, there is a growing interest for innovative approaches to water resources sustainability. One approach that is gaining popularity is household graywater reuse for residential landscape irrigation. Graywater irrigation systems offer many benefits, however the use of such systems has not become widespread due to concerns about safety issues. While some states have begun to legalize and regulate the practice of graywater reuse for residential landscape, little guidance based on scientific data has been provided for the safe operation of graywater irrigation systems. Limited scientific data is available on the fate of graywater chemical and microbiological constituents and the effect of these constituents on plant health after graywater is applied for irrigation. The objective of this research project is to elucidate information on the fate and occurrence of graywater constituents and their potential impacts on soil quality, groundwater quality, and plant and human health as a result of its application for residential landscape irrigation.
Phase 1 of the project, a literature review and synthesis, was completed in March 2006 and is available from WERF. The final report contains a comprehensive synthesis of the current state of the knowledge on graywater reuse for landscape irrigation at the household level. The report also identifies information gaps for future research, a number of which are being addressed through Phase 2.
Phase 2 began in May 2008 and includes a series of experimental studies. The Phase 2 experimental studies are being conducted in three parts: existing household systems, new household systems, and greenhouse studies.
First, soil samples were collected from several household sites that used graywater for irrigation for more than five years and compared with analogous soil and landscaping that had been irrigated with potable water. The second part of the study targets new applications of graywater to several selected sites; the sites may be new construction, or retrofits to newer homes that already have landscaping in place. These sites are being operated in a controlled manner for one to two years to determine the dynamics of changes to soil and plant health that might occur due to graywater irrigation and the risk to human health in new systems. In addition to the field studies, a greenhouse experiment is being conducted. The goal of the greenhouse studies is to evaluate, in a scientifically controlled environment, the toxicity potential of graywater irrigation to annual bedding plants and turfgrasses and to examine the impact of graywater irrigation on groundwater quality by conducting leachate analysis.
This interim report presents data collected to date from the first of the three parts of the experimental studies – existing household sites. The results are from 18 months of data collection on four households with graywater irrigation systems in place for more than five years. Rather than waiting to release this data at the end of the project in 2012, this interim report makes this information available in order to help fill the current research gap in a timely manner. However, interpretation of results may change as more data becomes available as the project progresses through spring of 2012. Therefore, it is important to note that conclusive recommendations on graywater irrigation cannot be made at this time.
Associated Documents: