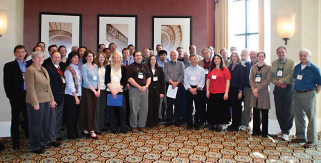 STRATEGIC THINKING
Decentralized systems play a key role in an emerging "smart, clean and green" paradigm for water resources management and design. These new designs recognize all water as a valuable resource. They integrate the natural and built environment to provide multiple benefits – cleaner water and air, energy savings, green jobs, resilience to climate change and disasters, and improved aesthetics and recreational opportunities that enhance the triple bottom line. The DWRC has been a thought leader in advancing these new concepts through briefings, workshops, white papers, reports, case studies, and other research.
Since its inception, DWRC strategic research planning has been guided by input from dedicated decentralized systems experts and practitioners representing a broad array of perspectives including municipalities, academics, regulators, consultants, manufacturers, and others.
During Phase 1, the DWRC Steering Committee assisted in developing the 2002-2003 NDWRCDP Training, Research and Development Plan to guide research funding priorities. The plan synthesized recommendations from research needs white papers, a Future Mapping retreat, and other sources.
In Phase 2, WERF established two advisory bodies, the DSAC and DRAC, to help identify critical information gaps in the decentralized field and establish research and development priorities to address these gaps.
A number of workshops and recommendations from completed research helped guide the DRAC and DSAC processes along the way. For example, in March 2007, WERF convened a long-range research planning workshop in Baltimore that charts a research agenda for integrated, sustainable, decentralized water infrastructure. Workshop participants also developed the Baltimore Charter as a commitment to design new water systems that mimic and work with nature.
WERF updated the Baltimore list of needs at a brainstorming workshop on Feb. 26, 2009 in Washington, DC which followed a WERF sponsored briefing and discussion on "Smart, Clean, and Green: 21st Century Sustainable Water Infrastructure".
While advances in decentralized systems have been made, a number of "barriers" to their use persist. DWRC research and training helps break down these barriers and build up the capacity of community leaders, regulators, service providers, and others to appropriately implement these systems.