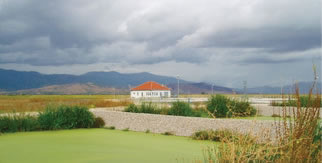 Management, Economics and Policy
Smart, Clean, and Green: 21st Century Sustainable Water Infrastructure
Publication Date: June 2009
Project Budget:$25,000
Project Identifier: DEC1R08
DESCRIPTION
On Feb. 25, WERF and the National Decentralized Water Resources Capacity Development Project held a briefing and discussion in Washington, D.C., on emerging smart, clean and green approaches in water management -- systems that use, treat, store and reuse water efficiently at small scales and that blend designs into restorative hydrologies.
Big pipes transporting water to and wastewater away from our cities are often old and under capacity. Many existing methods of water use and wastewater treatment are wasteful, energy intensive and environmentally disruptive. Ultimately, as climate change exacerbates droughts and storm events, populations grow, and water becomes scarce, these systems may not be sustainable.
Decentralized water technologies and designs are the keys to enhancing the performance of the nation's aging centralized water, stormwater, and sewer infrastructure. These technologies, including rain gardens and green roofs, water-efficient appliances and landscaping, decentralized wastewater treatment and reuse systems, will beautify our cities and towns, stimulate our local economies, enhance water supply, recover energy and nutrients, and improve our health and environment.
This briefing and discussion brought together decentralized systems experts, federal agency representatives, foundations, and others to inform participants about the potential for decentralized systems to achieve ecosystem, economic, social, and other benefits for the nation. Participants also shared information and discussed the research needed to advance the knowledge and science of these systems. Briefing presentations, materials, and notes are available at www.werf.org/smartcleangreen.