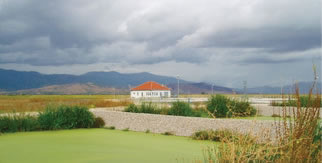 Training and Education
NDWRCDP Summary Research and Outreach Materials
Publication Date: November 2010
Cooperating Institution: A Green Footprint, LLC
Principal Investigator: Elizabeth Striano
Project Budget: $99,150
Project Identifier: DEC3R08
DESCRIPTION
The National Decentralized Water Resources Capacity Development Project (NDWRCDP), more recently known as the Decentralized Water Resources Collaborative (DWRC), is a cooperative effort funded by the U.S. Environmental Protection Agency which supports research and development to improve our understanding and strengthen the foundations of training and practice in the field of onsite/decentralized wastewater and stormwater treatment.
There have been over 70 different research projects conducted under Phase 1 (1997-2003) and Phase 2 (2003-2010) of the DWRC program. The goal of this project is to prepare several meaningful outreach products in a variety of educational formats to help target audiences understand, locate, and make use of the key findings, tools, and resources produced from the multi-year, DWRC research effort. The outreach products developed include the following:


Decentralized Water Resources: Answers to the Most Frequently Asked Questions. A concise guide highlighting key issues and topics organized by category that includes links to referenced DWRC research information and resources.
Brochure. A four-page brochure introduces the DWRC products and can be easily shared with others.
Quick Guide to the Research and Products. A simple, graphical snapshot of every product available from the DWRC, including links to tools, reports, and other products.
Video. A short video to promote awareness of decentralized systems and the resources developed by the DWRC to assist users.
PowerPoint. A PowerPoint that anyone can use to help educate key stakeholders about the decentralized resources and tools available from the DWRC.
Centralized Agency Brochure. A brief for use by centralized wastewater agencies that explains what decentralized systems are, what opportunities they provide for centralized agencies, and what resources are available from the DWRC to help.
All of the products developed from the project are available for download from a specially developed project website: www.werf.org/decentralizedoutreach.
Associated Documents:
Project Website